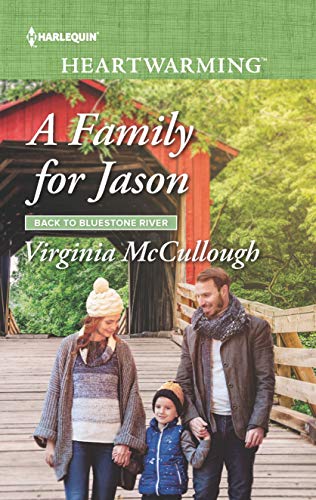 She's not home for keeps
Unless he proves first love is forever
Bluestone River is a minefield of memories for Mike Abbot—all involving Ruby Driscoll. Twenty years after scandal divided them, they're both back in their hometown. Ruby's visit is strictly temporary. But as she uses her trauma expertise to help his vulnerable son, Mike faces what his heart has always known. Ruby's still his one and only. This time, can he convince her to stay?
Published:
August 1, 2019
Publisher:
Genres:
Excerpt:
He walked closer to the slide, waving to Jason, who sat at the top. Jason waved back, but then his focus seemed to shift and he hesitated for a couple of seconds at the top. When he let go of the handholds and slid to the bottom, he ran toward Mike, but then passed him. Mike spun around and saw a golden retriever straining on the end of a long leash. He smiled to himself. He got it. That dog was much more interesting than Dad.
His gaze followed Jason coming to an abrupt stop a few feet from the dog. He glanced at the woman holding the leash who was coming through the bridge and smiling at Jason. His stomach flipped as he froze in place.
Ruby. Ruby was on the other end of the leash. She leaned over to pat the dog's side. Red-haired, brown-eyed, smiling Ruby.
READ MORE
Mike's jaw slackened as the present moment gave way to flashes from the past. Seventeen-year-old Ruby running through the bridge and leaping into his arms, a college acceptance letter in her hand. Ruby in a purple dress lacing her fingers around his neck as they danced under the dim lights at their prom. A vision of them skipping stones at the riverbank flashed and morphed into the two of them in sweatshirts and jeans rowing under a full moon on a warm fall night.
He stared at Ruby, who stood twenty, maybe thirty feet away. Then she looked away from the dog and Jason, and saw him. Motionless, expressionless, she stared back across the patchy grass. Barely able to breathe, he forced himself to close the distance between them.
"Ruby…I'm, I don't seem to…"
"I know," she said in a faint voice. "What are you doing here?"
"I, uh, moved back." He pointed to the ground. "I live here now."
Ruby opened her mouth as if to speak, but no words came out. Instead, he heard a choking sob come from deep in her throat and her mouth disappeared behind her hand.
COLLAPSE
Reviews:
Carole J., Amazon

wrote:
If I had to describe this story in one word, it would be "comeback" – both in the town of Bluestone River and in the lives of Ruby, Mike and Jason. The author laid a beautiful foundation for much more development and I want to spend more time in Bluestone River. Recommended.
Kathryn C., Amazon

wrote:
A Family for Jason is full of real life. Every one of us goes through trials throughout our lives. This book cuts deep and is real.
Andrea C., Amazon

wrote:
Sigh. Virginia McCullough knocks it out of the park again with this clean romance that is the first in her new series. Ruby and Mike had been high school sweethearts, until horrific tragedies separated them from each other and from the small town they had so dearly loved while growing up. Modern day difficult times, about 20 years later, have brought them both back home, neither one realizing that the other is there. It's a great foundation for a second chance romance.